Bachelor/Master Thesis 3D-Bioprinting of a microfluidic organ-on-chip in vitro model of the proximal tubule of the kidney(m/w/d)
The Natural and Medical Sciences Institute (NMI) at the University of Tübingen is a non-profit research institute of the "Innovationsallianz Baden-Württemberg": the NMI performs applied research at the interface between life science and material science. A position for a Bachelor/Master thesis in Biology, Biochemistry, Biomedical Engineering, Medical Technology or Biophysics, is available for an immediate start in the working group BioMEMS & Sensors Group.
Motivation and background
At the NMI, BioMEMS & Sensors Group, we develop Microphysiological Systems (MPS) for applications in drug development and personalized medicine. The convergence of cell biology and microfluidics enables fundamentally new in vitro test systems, representing the smallest functional units of organs. These systems may be continuously perfused and ultimately used for drug testing. By closely mimicking the smallest functional units of organs, scientists envision significantly improved predictivity with respect to drug effects and toxicity when compared to conventional test systems. In this context 3D-bioprinting offers intriguing tools to fabricate complex structured micro-tissues.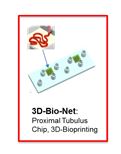 Within an industrial cooperation project we develop a microfluidic model of the proximal tubule, whereby critical structures are fabricated by 3D-bioprinting in a microfluidic chip.
Objectives of the thesis
3D-Bioprinting of gels and gel/cell composites in microfluidic chips
Establishment and optimization of cell culture conditions
Analysis of protein expression and function of the in vitro model of the proximal tubule
Requirements:
Education in Biology, Biochemistry, Biomedical Technology, Biophysics or similar, aptitude
practical knowledge in cell biology procedures and typical assays
We offer
A thesis within an exciting multidisciplinary project and a highly innovative research topic, careful supervision in an inspiring environment, up to date equipment.
Interesse? Klicken Sie auf "Jetzt auf diese Stelle bewerben". Die Onlinebewerbung dauert nur zwei Minuten.